KAJIB' IMOX ~ Today's Ch'umil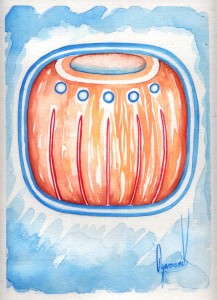 If we do not learn to heal our emotions, they can cause illnesses in our physical body. On this day of Kajib' Imox in which we are connected to the energy of water, the element that cleanses our emotional body to bring us balance, and to the power of Tijax that grants us its healing and liberating force, let us gift ourselves a time to let go of the emotions that do not make us feel comfortable. Let us release them with determination and with the joy of knowing that we are opening space for new feelings that contribute to the balance, healing, and expansion of our being.
Let us take a moment to feel our feelings, to express and release, let us cry if we feel the need to do so. Remember that crying is a gift of life, a way to purify and heal our heart in order to find our plenitude.
*Inspired by a conversation with my cousin, Yamanik Pablo. Maltyox to her for the knowledge she shares.
Si no aprendemos a sanar nuestras emociones, estas pueden causar enfermedades en nuestro cuerpo físico. En este día de Kajib' Imox en el que estamos conectados a la energía del agua, ese elemento que limpia nuestro cuerpo emocional para traernos balance, y al poder de Tijax que nos da su fuerza sanadora y liberadora, regalémonos un tiempo para soltar las emociones que no nos hacen sentir cómodos, dejémoslas ir con determinación y con la alegría de saber que estamos abriendo espacio para nuevos sentires que sumen al equilibrio, sanación y expansión de nuestro ser.
Tomemos un momento para sentir nuestros sentimientos, para expresar y liberar, lloremos si necesitamos hacerlo, recordemos que llorar es un regalo de la vida, un forma de purificar y sanar nuestro corazón para poder encontrar la plenitud.
*Inspirado en una conversación con mi prima, Yamanik Pablo. Maltyox a ella por el saber que comparte.

Latest posts by Denise Barrios
(see all)