JUN TZ'I' ~ Today's Ch'umil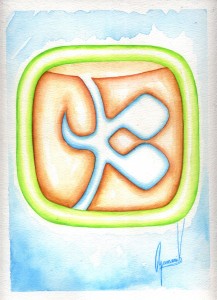 Tz'i' is the symbol of justice and authority, the energy of the divine laws under which we live. It is our consciousness, that inner voice that guides us and helps us distinguish between what is right and what is wrong, that connects us to the cosmic and natural laws. This Ch'umil is the advisor, the guide; the force that can free us when we make bad decisions. Its wisdom reminds us that each one of us is an authority and counselor, a teacher and a guide, and therefore we must try to be what Tz'i' represents, we must walk the straight path, live in harmony with what surrounds us. Tz'i' is the power of the written word, its energy allows us to understand the sacred messages. Number 1 symbolizes the beginning, it is the force that gives us the impulse to start anything we want to do, it is the power of creation.
Ajaw Tz'i' speaks to us today of the importance of respecting who we are, but also respecting other people's life path. Knowing how to value and understand others is at the same time a way of valuing and being compassionate towards ourselves. Let us be conscious that what we see in others is nothing more than a reflection of what exists within us, of what we are. Through this awareness Ajaw Tz'i' transmits to us that we have come here to teach and learn, that all of us are both masters and disciples.
Today a trecena begins under the power of Tz'i', who grants us the wisdom to solve difficult situations, who grants us the clarity to act with transparency, to be fair towards our being and towards those around us. In this trecena we can ask for the guidance of the divine authorities to solve any conflict we are going through, for Tz'i' is not only justice, it is also the counselor who directs us to our right path. Let us open ourselves to allow Ajaw Tz'i' to become the force that guides us during this short cycle.
Tz'i' es el símbolo de la justicia y autoridad, la energía de las leyes divinas bajo las cuales vivimos. Es nuestra consciencia, esa voz interior que nos guía y nos ayuda a distinguir entre lo que es correcto y lo que no, que nos conecta a las leyes cósmicas y naturales. Este Ch'umil es el consejero, el orientador, la fuerza que puede liberarnos cuando tomamos malas decisiones. Su sabiduría nos recuerda que cada uno de nosotros somos autoridades y consejeros, maestros y guías, y por ello debemos intentar ser lo que Tz'i' representa, debemos transitar el camino recto, vivir en armonía con lo que nos rodea. Tz'i' es el poder de la palabra escrita, es la energía que nos permite comprender los mensajes sagrados. El número 1 simboliza el inicio, es la fuerza que nos da el impulso para comenzar cualquier cosa que queremos llevar a cabo, es el poder de la creación.
Ajaw Tz'i' nos habla hoy de la importancia de respetar lo que somos, pero hacerlo respetando también el camino de vida de los demás. El saber valorar y comprender a los otros es a la vez una forma de valorarnos y ser compasivos con nosotros mismos. Seamos conscientes de que lo que vemos en los demás no es más que un reflejo de lo que nosotros llevamos dentro, de lo que somos. A través de esa consciencia Ajaw Tz'i' nos transmite que venimos a enseñar y aprender, que todos somos a la vez maestros y discípulos.
Hoy inicia una trecena con la fuerza de Tz'i' quien nos otorga la sabiduría para resolver situaciones complejas, que nos da la claridad para actuar con transparencia, para ser justos con nuestro ser y con quienes nos rodean. En esta trecena podemos pedir la guía de las autoridades divinas para resolver cualquier conflicto que estemos transitando, pues Tz'i' no solo es la justicia, es también el consejero que nos orienta hacia nuestro camino correcto. Abrámonos a que Ajaw Tz'i' sea la fuerza que nos guíe durante este corto ciclo.

Latest posts by Denise Barrios
(see all)