JUN TZ'I' ~ Today's Ch'umil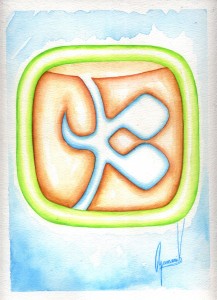 Tz'i' is the symbol of the ancestral authorities. It is the day of justice, the energy of the adviser who provides us with its guidance, who leads us to the right path. It is our own ability to find answers based on the learnings we have obtained throughout our existence. The energy of Tz'i' also relates to the written word, especially to sacred writings. Today it converges with number Jun -1-, which brings the new beginnings, it is a power that impels. This day comes to remind us that spiritual evolution is not only about fulfilling a purpose, but it is shaping the being we want to become while we walk towards that purpose, that is the growth.
Tz'i' es el símbolo de las autoridades ancestrales. Es el día de la justicia, la energía del consejero que nos orienta, que nos guía hacia el camino correcto. Es nuestra propia capacidad para encontrar las respuestas basados en los aprendizajes que hemos obtenido a lo largo de nuestra existencia. La energía de Tz'i' también se relaciona con la palabra escrita, especialmente con los escritos sagrados. Hoy converge con el número Jun -1-, que trae los nuevos comienzos, que es una energía que impulsa. Este día viene para recordarnos que la evolución espiritual no es solo cumplir con un propósito, es el ir dando forma al ser en el que deseamos convertirnos mientras caminamos hacia ese propósito, ese es el crecimiento.

Latest posts by Denise Barrios
(see all)