JUN TIJAX ~ Today's Ch'umil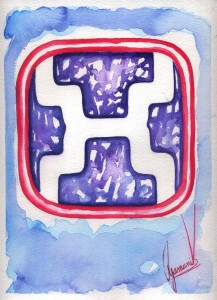 On this day the heart of Grandmother Moon opens up to us and speaks about the transformation we need to undergo in order to find our inner light. Her energy illuminates every space of our being and puts us in contact with our true feelings, allowing our inner wisdom to guide us in the transformation of situations and aspects of life we need to leave behind. Tonight the inner fire of Grandmother Moon becomes visible to tell us that for us it is also a time to awaken and activate through our inner fire all the power that resides in our being. This full moon eclipse in which the moon is closer to the earth opens cycles of renewal and deep transformation that increase our sensitivity, awaken our inner magic and bring us closer to our process of enlightenment. This moon happens under the influence of Ajaw Jun Tijax which is a power that assists us in the processes of letting go and making significant changes in life. Its purifying energy allows us to break with everything that limits us, it heals our being and helps us remove illnesses, negative energies, and adversities so that we may find lightness and balance in each of the planes of existence and are able to develop all our power. The energy today is very powerful and the important thing is that we tune in with it; we can do a meditation to think about everything we are living as humanity and what is happening to us in an individual level, we can light candles and focus our energy to create a state of harmony for us and for the community.
Today a trecena ruled by the force of Tijax begins and its power will accompany the energy of each day during this small cycle of thirteen days. May its power which activates today help us to heal, to free ourselves from limitations, and open new paths of development for our being. May its wisdom give us the knowledge of minerals and crystals, to see in them and use their power for healing. May its magic develop our strength and bring us messages through our dreams.
Hoy el corazón de la Abuela Luna se abre hacia nosotros y nos habla de la transformación que necesitamos llevar a cabo para encontrar nuestra luz interior. Su energía ilumina cada espacio de nuestro ser y nos pone en contacto con nuestro verdadero sentir, lo que permite que sea nuestra sabiduría interior la que nos guíe en la transformación de las situaciones y aspectos que necesitamos dejar atrás. Esta noche el fuego interno de la Abuela Luna se hace visible para hablarnos de que también para nosotros es un momento de despertar y activar a través de nuestro fuego interior todo el poder que reside en nuestro ser. Este eclipse de luna llena en el que la luna también se encuentra más cercana a la tierra abre ciclos de renovación y de una transformación profunda que acrecienta nuestra sensibilidad, despierta nuestra magia interior y nos acerca a nuestro proceso de iluminación. Esta luna sucede bajo la influencia de Ajaw Jun Tijax que es un poder que nos asiste en los procesos de soltar y realizar cambios significativos en la vida. Su energía purificadora nos permite romper con todo lo que nos limita, sana nuestro ser y nos ayuda a retirar las enfermedades, energías negativas y adversidades para que encontremos liviandad y balance en cada uno de los planos de existencia y podamos así desarrollar todo nuestro poder. La energía hoy es muy poderosa y lo importante es que podamos sintonizarnos con ella, podemos hacer una meditación para pensar en todo lo que estamos viviendo como humanidad y en lo que nos pasa a a nivel individual, podemos prender unas velas y enfocar nuestra energía en crear un estado de armonía tanto para nosotros como para la comunidad.
Hoy inicia una trecena con la fuerza de Tijax y su poder acompañará la energía que rige cada día de este pequeño ciclo de trece días. Que este poder que se activa desde hoy nos ayude a sanar, a liberarnos de las limitaciones y a abrir nuevos senderos de desarrollo para nuestro ser. Que su sabiduría nos dé el conocimiento de los minerales y cristales, para ver en ellos y usar su poder para la sanación. Que su magia desarrolle nuestra fortaleza y nos traiga mensajes a través de los sueños.

Latest posts by Denise Barrios
(see all)