JUN TIJAX ~ Today's Ch'umil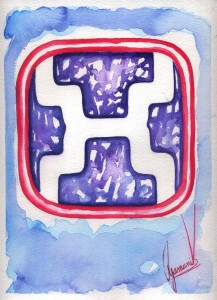 Today we begin a trecena that comes to remind us that we are not here to be guided by worry or indifference, for if we really want to transform things we cannot use fear, apathy, or how complicated things are as an excuse, for in order to achieve our intentions we must have determination, we must be willing to live life to the fullest, moving forward from wherever it is that we are and doing so with the courage to work on that which we have to heal. These next thirteen days invite us to take action, to advance while living our processes with love, healing ourselves along the way to find freedom. Let us not forget that happiness is a choice and not a result, that it does not come to us but it flows from us.
Hoy inicia una trecena que viene para recordarnos que no estamos aquí para ser guiados por el temor o la dejadez, que si realmente queremos transformar las cosas no podemos poner por excusa el miedo, la apatía o lo complicadas que son las cosas, pues para alcanzar nuestras intenciones debemos tener determinación, estar dispuestos a vivir la vida con todo, caminando hacia adelante desde donde estemos y con la valentía de trabajar en aquello que tengamos por sanar. Estos próximos trece días nos invitan a accionar, a avanzar viviendo nuestros procesos con amor, sanando el camino para encontrar la libertad. No olvidemos que la felicidad es una elección y no un resultado, que ella no viene hacia nosotros sino que surge de nosotros.

Latest posts by Denise Barrios
(see all)