JUN NO'J ~ Today's Ch'umil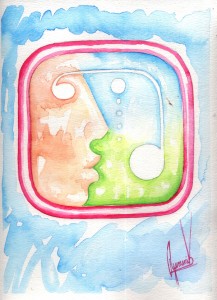 We are the creators of our existence, we shape our reality through our patterns of thinking, through the directionality of our ideas. Our brain is a wonderful tool, but let us not forget that it needs the vibration of our soul and heart to create a reality that leads to the evolution of our being. The beginning of a trecena is the perfect moment to begin anything we want to realize, especially those things related to the energy of the ruling Ch'umil, which influences the other 12 energies that form part of these 13 days. Today the trecena begins with the power of Jun -1- No'j. During these days there is a force that impels, that enhances the creativity of our mind to create our own reality. Remember that all the power that you need lies within you.
Somos los creadores de nuestra existencia, damos forma a la realidad través de nuestros patrones de pensamiento, de la direccionalidad de nuestras ideas. Nuestro cerebro es una herramienta maravillosa, pero no olvidemos que necesita de la vibración del alma y el corazón para crear una realidad que conduzca hacia la evolución de nuestro ser. El inicio de una trecena es el momento ideal para comenzar cualquier cosa que queramos llevar a cabo, especialmente aquellas relacionadas a la energía del Ch'umil que rige y que tiene una influencia sobre las otras 12 energías que la componen. Hoy comienza la trecena con la fuerza de Jun -1- No'j. En estos días hay una potencia que nos impulsa y que nos da la creatividad de la mente para crear nuestra realidad. Recuerda que todo el poder que necesitas está en ti.

Latest posts by Denise Barrios
(see all)