JULAJUJ Q'ANIL ~ Today's Ch'umil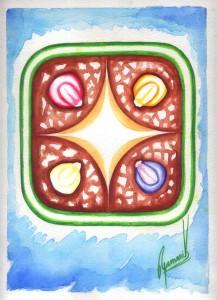 Q'anil is the energy of the seed, it is the germination of all that Mother Earth produces, but it is also our thoughts that sprout into creation, the projects we carry out, the action in everything we undertake; it is the shaping of our reality. Julajuj (11) is a number that allows us to find growth through our life experiences, and today these two energies converge in the trecena of Tijax who brings a healing force.
This day reminds us that sometimes in order to grow we need a time of darkness, a moment of silence and stillness, that there are times when we need to prune old beliefs so that new skills can sprout, so that our power can emerge, that in order to rise high we also need to be rooted. Let us remember that just as a plant can emerge from a crack, we are also able to use our adverse situations as a tool that allows us to flourish.
Q'anil es la energía de la semilla, es la germinación de todo aquello que produce la Madre Tierra, pero es también nuestros pensamientos que brotan en forma de creación, los proyectos que llevamos a cabo, la acción en cada cosa que emprendemos; es el crear nuestra realidad. Julajuj (11) es un número que nos permite encontrar crecimiento a través de nuestras vivencias y experiencias, y hoy estas dos energías convergen en la trecena de Tijax que trae una fuerza sanadora.
Este día nos recuerda que a veces para crecer necesitamos un tiempo de oscuridad, un momento de silencio y quietud, que a veces necesitamos podar las viejas creencias para que broten nuevas herramientas, para que surja nuestro poder, que para elevarnos alto también necesitamos enraizar. Recordemos que al igual que una planta puede surgir de una grieta, nosotros también podemos usar nuestras situaciones adversas para florecer.

Latest posts by Denise Barrios
(see all)