JU'LAJUJ IMOX ~ Today's Ch'umil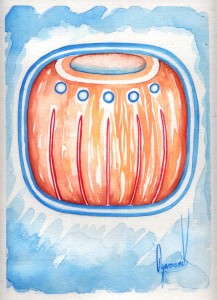 Imox es la energía que nos habla de la sensibilidad no solo como ese poder que tenemos de conectar con nuestro plano emocional, sino también nuestra habilidad de percibir aquellas energías que son mucho mas sutiles. Imox nos recuerda que somos seres sensibles, que tenemos en nosotros sentidos y poderes que nos guían.
Imox es también la energía y sabiduría del agua, ese elemento que nos enseña la importancia de saber fluir, que nos habla de adaptabilidad y movimiento. Su energía es una de las que contiene el poder de la sanación y en Imox esa sanación surge de la sabiduría del agua; es nuestra vibración, pensamientos y sentimientos como esa medicina que puede cambiar la estructura del agua que somos, es el conectar con nuestras emociones, es la claridad que logramos alcanzar, el saber despejar el camino de aquello que ya no nos aporta, aprendiendo a fluir con la vida.
Imox is the energy that speaks to us of sensitivity not only as that power we have to connect with our emotional plane, but also our ability to perceive those energies that are much more subtle. Imox reminds us that we are sentient beings, that we have within us senses and powers that guide us.
Imox is also the energy and wisdom of water, the element that teaches us the importance of knowing how to flow, that speaks to us of adaptability and movement. Imox is one of the energies that contains the power of healing which is the healing that comes from the wisdom of water; it is our vibration, thoughts, and feelings as that medicine that can change the structure of the water that we are, it is the connection with our emotions, it is our clarity and the ability to clear the path of that which no longer contributes to us, it is learning to flow with life.

Latest posts by Denise Barrios
(see all)