JOB' TZ'IKIN ~ Today's Ch'umil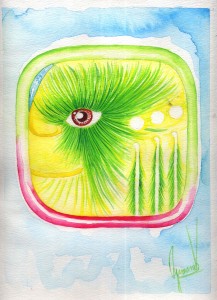 Today we receive the power and wisdom of Job' Tz'ikin. In the chain of creation, it is through this energy that the essence of each being and the essence of reality manifest. That our ability to communicate and connect, our vision and link to our subtler senses emerges. Tz'ikin brings us into contact with the higher energies, it is the intermediary between the Heart of the Sky and the Heart of Mother Earth.
Through Tz'ikin luck, love, and economic well-being also arise, those energies that are available to all, but to which we must open the space and activate through our actions. On this day we can light a pale blue candle with the purpose of awakening our power and vision, so that our gifts manifest and we have the ability to express the true essence of our being, so that the happiness, fortune, and plenitude that is there for us may come into our lives.
Hoy recibimos el poder y sabiduría de Job' Tz'ikin. En la cadena de la creación es por intermedio de esta energía que se manifiesta la esencia de cada ser, la esencia de esta realidad, que surge nuestra capacidad de comunicarnos y conectarnos, nuestra visión y la conexión a nuestros sentidos más sutiles. Tz'ikin nos conecta a las energías más elevadas, es el intermediario entre el Corazón del Cielo y el Corazón de la Madre Tierra.
Con Tz'ikin surge también la suerte, el amor y el bienestar económico, esas energías que están disponibles para todos, pero a las que debemos abrir el espacio y activar a través de nuestras acciones. En este día podemos encender una vela azul con el propósito de despertar nuestro poder y visión, para que se manifiesten nuestros dones, para que tengamos la capacidad de expresar la verdadera esencia de nuestro ser y que venga a nuestra vida la felicidad, fortuna y plenitud que está ahi para nosotros.

Latest posts by Denise Barrios
(see all)