JOB' TIJAX ~ Today's Ch'umil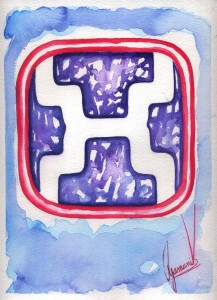 Tijax is a powerful force that enables us to cut and remove from our energy field all those things that prevent our development. Its energy opens paths of growth so that we can remember that our purpose in life is to expand our consciousness, to open ourselves to new possibilities that impel our growth. The number Job' -5- is an energy that elevates us, that teaches us to flow through love, and which connects us to everything.
On this day, Job' Tijax comes to remind us that we live in a world that flows with creative energy, a world of infinite possibilities, and that when we are open we can perceive all its power. That the only reason for which we would not connect with it is if we block it, if we close our heart, mind, or spirit, limiting ourselves and not allowing the energy to flow through us. We have an unstoppable, healing and creative energy within us, let us be open to it.
Tijax es una fuerza poderosa que nos ayuda a cortar y retirar de nuestro campo energético todo aquello que impide nuestro desarrollo. Su energía abre caminos de crecimiento para que recordemos que nuestro propósito de vida consiste en expandir nuestra consciencia, en abrirnos a nuevas posibilidades que impelen nuestro crecimiento. El número Job' -5- es una energía que nos eleva, que nos enseña a fluir desde el amor y nos conecta con el todo.
Hoy Job' Tijax viene a recordarnos que vivimos en un mundo en el que fluye la energía creadora, un mundo de posibilidades infinitas, y que cuando estamos abiertos podemos percibir todo su poder, que la única razón por la que podríamos no conectar con este es si nosotros mismos lo bloqueamos, si cerramos nuestro corazón, mente o espíritu, limitándonos y no permitiendo que la energía fluya a través de nosotros. Tenemos una energía imparable, sanadora y creadora dentro de nosotros, abrámonos a ella.

Latest posts by Denise Barrios
(see all)