JOB' KAWOQ ~ Today's Ch'umil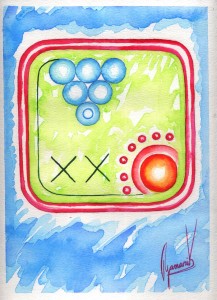 This day manifests the energy of community, it is the force that rules over abundance, over the power of expansion and multiplicity. Today we are under the influence of Kawoq, the Ch'umil that teaches us the importance of sharing, of understanding that our personal experience is connected to joint evolution, for we are part of a whole, of an earthly and cosmic family. The number Job' -5- brings us the energy of action, it speaks to us of the force that our actions have to impact and touch the lives of others, to make a difference in the world and in humanity. Job' is the number that connects us to the ethereal element, to our more subtle and spiritual side.
Let us use the power that arises from the confluence of these energies to infuse light, love and spirituality, let us emanate and share our luminous power that is so necessary in these times. The trecena of Tz'ikin opens the space to the abundance that we must provoke and on this day teaches us that the greatest wealth is achieved together, through sharing.
En este día se manifiesta la energía de la comunidad, de la fuerza que rige sobre la abundancia, del poder de la expansión y la multiplicidad. Hoy estamos bajo la influencia de Kawoq, el Ch'umil que nos enseña la importancia de compartir, de comprender que nuestra experiencia personal está conectada a la evolución conjunta, pues somos parte de un todo, de una familia terrenal y cósmica. El número Job' -5- nos trae la energía de la acción, nos habla de la fuerza que poseen nuestros actos para impactar y tocar la vida de los demás, para hacer una diferencia en el mundo y la humanidad. Job' es el número que nos conecta al elemento etéreo, a nuestro lado más sutil y espiritual.
Usemos el poder que nos trae la confluencia de estas energías para infundir luz, amor y espiritualidad, emanemos y compartamos esa fuerza luminosa que es tan necesaria en estos tiempos. La trecena de Tz'ikin nos abre el espacio a la abundancia que debemos provocar y en este día nos enseña que la mayor riqueza se logra en conjunto y al compartir.

Latest posts by Denise Barrios
(see all)