JOB' AJMAQ ~ Today's Ch'umil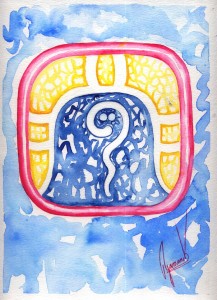 Ajmaq symbolizes the mind in a state of forgiveness and enlightenment, its energy impels us to find inner harmony in the relationship with ourselves. This Ch'umil teaches us the importance of creating the changes that lead to the expansion of our being by going within with the intention of genuinely getting to know ourselves, of letting go of the burden of what does not belong to us, doing so with love and compassion. The number Job' (5) is a power that helps us find our center and connect to the ancient wisdom we hold within.
Today the energies speak to us of learning to see people beyond their failures, to recognize their humanity, understanding that they have inner wounds that are healing. Let us observe others from a place of love and empathy in order to let go of the anger or pain we feel, being able to forgive, and above all, let us not forget to see ourselves with the same love and empathy that we are able to offer to others. Today the trecena of Ajaw E opens for us paths of healing and harmony through the energy of forgiveness.
Ajmaq simboliza la mente en estado de perdón e iluminación, su energía nos impele a encontrar la armonía interior en el contacto con nosotros mismos. Este Ch'umil nos enseña la importancia de alcanzar esos cambios que conducen a la expansión de nuestro ser al adentrarnos en nuestro interior con la intención de conocernos auténticamente, de soltar las cargas de lo que no nos pertenece, haciéndolo con amor y compasión. El número Job' (5) es un poder que nos ayuda a encontrar nuestro centro y a conectar con la sabiduría ancestral que guardamos dentro.
Hoy las energías nos hablan de aprender a ver a las personas más allá de sus errores, a ver su humanidad, comprendiendo que tienen heridas internas que están sanando. Observemos a los demás desde un lugar de amor y empatía para así poder dejar ir el enojo o dolor que sentimos, para poder perdonar, y sobre todo, no olvidemos vernos a nosotros mismos con ese mismo amor y empatía que podemos ofrecer a otros. Hoy la trecena de Ajaw E nos abre senderos de sanación y armonía a través de la energía del perdón.

Latest posts by Denise Barrios
(see all)