B'ELEJEB' K'AT ~ Today's Ch'umil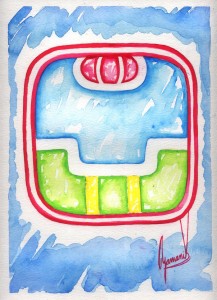 We cannot ruin anything that is meant to be, so let us not waste our energy and time getting entangled in thoughts such as, why did it happen that way, or why me? The energy of 9 K'at speaks to us about trusting the processes of life, reminding us that when we do not put up resistance and we receive with an open heart, things flow and the universe conspires in our favor, granting us every element we need to reach our fulfillment.
K'at is the net that stores our knowledge, our memories and experiences, its energy helps us collect the elements and ideas that allow us to fulfill our purpose in life. This Ch'umil symbolizes the ties, it is everything that traps and limits us, but its power is also the one that helps us untie the knots of our reality, for the wisdom contained by this sign grants us the tools and knowledge we need to find freedom. The energy of K'at can then restrain us or it can be a great element for our development, it all depends on how we use it. K'at is also the net of communication and interconnection, this Ch'umil is one of the energies that is related to Ch'ipi Kaqulja', the small ray of synaptic connection that allows us to create reality. Number 9 brings intuition, it is a creative force that is connected to the feminine energy, it is a spiritual power that connects us to the subtle.
No podemos echar a perder nada que esté destinado a ser, así que no perdamos nuestra energía y tiempo enredándonos en pensamientos como ¿por qué sucedió así? o ¿por qué a mí? Hoy 9 K'at nos habla de confiar en los procesos de la vida, recordándonos que cuando no ponemos resistencia y recibimos con un corazón abierto las cosas fluyen y el universo conspira a nuestro favor, otorgándonos cada elemento que necesitamos para alcanzar la realización.
K'at es la red que guarda nuestro conocimiento, nuestras memorias y experiencias, su energía nos ayuda a recolectar los elementos e ideas que nos permiten cumplir nuestro propósito de vida. Este Ch'umil simboliza las ataduras, es todo aquello que nos atrapa y nos limita, pero su poder es también el que nos ayuda a desatar los nudos de nuestra realidad, pues la sabiduría contenida por este signo nos otorga las herramientas y conocimientos que necesitamos para encontrar la libertad. La energía de K'at puede entonces obstaculizar o puede ser un gran elemento para nuestro desarrollo, todo depende de cómo la utilicemos. K'at es también la red de la comunicación y la interconexión, este Ch'umil es una de las energías que están relacionadas a Ch'ipi Kaqulja', el rayo pequeño de la conexión sináptica que nos permite crear la realidad. El número 9 trae intuición, es una fuerza creativa que está conectada a la energía femenina, es el poder espiritual que nos conecta a lo sutil.

Latest posts by Denise Barrios
(see all)