B'ELEJEB' AJMAQ ~ Today's Ch'umil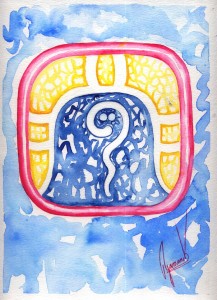 This day reminds us that when we journey within, we must enter with care and respect, with love and empathy, being compassionate with our mistakes, and knowing how to understand and forgive ourselves, thereby releasing all mental charges that restrain and prevent us from becoming the wonderful beings that we are.
Let us not forget that the answers we seek, the wisdom we require, already exist within our being; all we need to do is experience those moments of silence in which we can listen to ourselves and allow ourselves to blossom.
Este día nos recuerda que cuando viajamos hacia el interno debemos entrar en nosotros mismos con cuidado y respeto, con amor y empatía, siendo compasivos con nuestros errores, sabiendo comprendernos y perdonarnos, liberándonos así de todas esas cargas mentales que nos contienen y que no permiten que nos convirtamos en ese grandioso ser que somos.
No olvidemos que las respuestas que buscamos, la sabiduría que necesitamos ya existe dentro de nuestro ser, solo debemos experimentar esos momentos de silencio para escucharnos y permitirnos florecer.

Latest posts by Denise Barrios
(see all)