9 KAN ~ Today's Ch'umil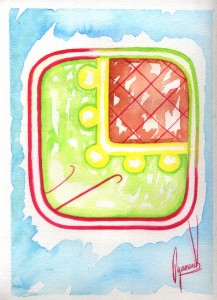 Today we are ruled by Ajaw Kan who symbolizes the inner fire, it is the serpentine energy that moves in our body throughout our spine, it is the force of the cosmos and earth that flows through us. Kan is evolution and transmutation, it is wisdom and our genetic memory. Today it converges with number 9, the highest expression of female energy, it is spirituality, creativity, and intuition. Let's be conscious of the energy that flows through our body, so that it is not synchronized with the ego, insecurity, fear, or control, but with love, peace, harmony, and self worth, let's feel that we are abundant and deserving. Remember that all the energy you generate, even though it impacts others, it is flowing within you, it is in your brain, your heart, your cells, in each part of your body where it impacts the most. This day gives you all the tools you need to work in altering the frequency of the energy you generate, that energy which transforms you in every plane of existence. Make your energy be coherent with the experience of life you want to have.
Hoy nos rige Ajaw Kan quien simboliza el fuego interno, es la energía serpentina que se mueve por el cuerpo a través de la columna vertebral, la fuerza del cosmos y la tierra que fluye a través de nosotros. Kan es la evolución y transumutación, es sabiduría y nuestra memoria genética. Hoy confluye con el número 9, la más alta expresión de la energía femenina, la espiritualidad, creatividad e intuición. Tengamos consciencia de la energía que fluye a través de nuestro cuerpo, que esta no esté sincronizada con el ego, la inseguridad, el miedo o el control; sino con el amor, la paz, la armonía y autoconfianza, sintámonos abundantes y merecedores. Recuerda que toda la energía que generas, aunque impacta a otros, es dentro de ti mismo donde fluye; es en tu cerebro, tu corazón, tus células, es en cada parte de tu cuerpo donde más impacto tiene. Este día te da todas las herramientas que necesitas para trabajar en alterar la frecuencia que generas y que transforma cada uno de tus planos. Que tu energía sea coherente con la experiencia de ser que quieres tener.

Latest posts by Denise Barrios
(see all)