8 Q'anil ~ Today's Ch'umil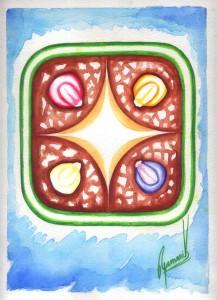 Q'anil means germ, seed, life and creation; in this day B'itol and Tz'aqol ―the Creator and the Maker― sowed the seeds of life in this part of the universe. Number 8 represents the complete energies of the material world. 8 Q'anil brings with it the energy of creation. Today you can ask the Creator and the Maker for a good planting and a good harvest; for the protection of the crops, and for the recovery of sterile ground.

Following the footsteps of her family, Denise started her spiritual path at the age of 15, when she began traveling frequently to the highlands in her home of Guatemala to learn about Maya culture from the elders. She is the author of the book "The Energies of the Day" which is a daily guide to the energies of the Sacred Cholq'ij Calendar.

Latest posts by Denise Barrios (see all)