7 AJMAQ ~ Today's Ch'umil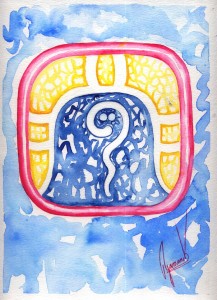 Ajaw Ajmaq grants us the tools we need to explore the mysteries of existence and delve deeper into the purpose of our life, so that we can recognize and understand our innermost essence. This Ch'umil represents curiosity, it is the energy that leads us to search for knowledge. Its power also helps us to find peace, for Ajmaq, which today converges with number 7 that is a force that can harmonize and bring balance to our life, symbolizes forgiveness. It is a force that can manage the energies of harmony and discord. This day brings us the opportunity to convert our mistakes into wisdom and transform the discordances into harmony. Open the space to the sacred wisdom, to the deep knowledge and to the lessons that will help you understand and cultivate your inner being, to find balance in your life. Seek within yourself, make a recognition of your actions during the past 20 days, this will help you renew your personal energy and find harmony.
Ajaw Ajmaq nos otorga las herramientas que necesitamos para explorar los misterios de la existencia y profundizar en el propósito de nuestra vida, para que podamos reconocer y comprender nuestra esencia más profunda. Este Ch'umil simboliza la cuiriosidad, es la energía que nos lleva a buscar el conocimiento. Su poder también nos ayuda a encontrar la paz, pues Ajmaq, que hoy converge con el número 7 que es una fuerza que armoniza y trae equilibrio a nuestra vida, simboliza el perdón, es una fuerza que maneja las energías de la armonía y la discordia. Este día nos trae la oportunidad de convertir nuestros desaciertos en sabiduría y transformar las discordias en armonía. Abre el espacio para la sabiduría sagrada, para el conocimiento profundo y para las lecciones importantes que te ayudarán a comprender y cultivar tu ser interior, a encontrar el equilibrio en tu vida. Busca dentro de ti, haz un reconocimiento de tus acciones durante los pasados 20 días esto te ayudará a renovar tu energía personal y armonizarte.

Latest posts by Denise Barrios
(see all)