6 Q'ANIL ~ Today's Ch'umil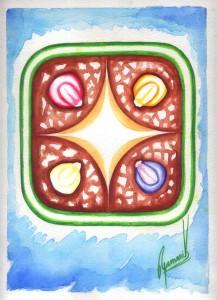 Today we are ruled by Ajaw 6 Q'anil. This Ch'umil brings the energy of the seed that gives life, which makes it possible for everything to rise if you nurture it. It is the wonderful force of realization, the power that creates, through which everything materializes, becomes real. Today this sign converges with the number 6 which leads us to evolve by means of the challeges that we find in our path. Let's remember that seeds sprout from the darkness, it is from that dark place that they arise, that they open to the light in order to grow and flourish. The elders say that to be in the light we must have survived the darkness. During this day, 6 Q'anil supports you in your search for development and in changing those things that do not satisfy you about yourself. It gives you the elements to grow, to rise, and to find the light, so that you can bear the best of the fruits. The Aq'ab'al trecena opens opportunities and the possibility to renovate yourself. This is a day to plant your path, your destiny, to sow the being that you want to be.
Hoy nos rige Ajaw 6 Q'anil. Este Ch'umil trae la energía de la semilla, aquella que da vida, que hace posible que todo surja si lo cultivas. Es esa fuerza maravillosa de la realización, ese poder que crea, a través del cual todo se materializa, se vuelve una realidad. Hoy este signo converge con el número 6 que nos lleva a evolucionar por medio de las pruebas que se presentan en nuestro camino. Recordemos que las semillas brotan desde la oscuridad, es desde ese lugar oscuro que surjen, que se abren a la luz para crecer, para florecer. Dicen los abuelos que para estar en la luz debemos haber sobrevivido la oscuridad. Durante este día, 6 Q'anil te apoya en tu búsqueda por desarrollarte y cambiar aquello que no te satisface de ti mismo, te da los elementos para crecer, para surgir y encontrar la luz, para que des el mejor de los frutos. La trecena de Aq'ab'al te abre las oportunidades y la posibilidad de renovarte. Hoy es un día para plantar tu camino, tu destino, para sembrar ese ser que quieres ser.

Latest posts by Denise Barrios
(see all)