5 B'ATZ' ~ Today's Ch'umil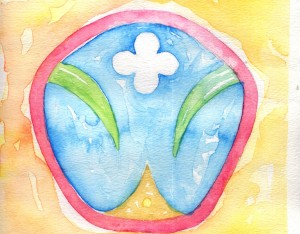 The power of Ajaw B'atz 'arises from the energy of love and creativity, which are the essence of this Ch'umil. B'atz 'symbolizes pure and sublime love. This sign also brings with it the power of healing, its magic helps us align our energy and brings us well-being, it allows us to connect with our spontaneity and joviality; it is a creative force that is related to art in all its expressions. The number 5 symbolizes action and movement, its power is related to the ether which is a force that lifts us up and connects us with everything. The energies that rule this day tell us about learning to express ourselves freely, connecting with our creativity and learning to be spontaneous. This is a day to create, to open ourselves to our deepest emotions through creative processes, to heal through dance, painting, music, sound, writing, or whatever art form we connect with. Remember that the purpose is not to create something perfect, but to explore our being freely, allow our creativity to flow so that we can express and capture what we feel and experience at this moment, so that we can connect through our creative force to the power of love. and 5 B'atz 'healing.
El poder de Ajaw B'atz' surge de la energía del amor y la creatividad, que son la esencia de este Ch'umil. B'atz' simboliza el amor puro y sublime. Este signo también trae consigo el poder de la sanación, su magia nos ayuda a alinear nuestra energía y nos trae bienestar, nos permite conectar con nuestra espontaneidad y jovialidad; es una fuerza creativa que está relacionada al arte en todas sus expresiones. El número 5 simboliza la acción y el movimiento, su poder está relacionado al éter que es una fuerza que nos eleva y nos conecta con el todo. Las energías que rigen sobre este día nos hablan de aprender a expresarnos con libertad, conectando con nuestra creatividad y aprendiendo a ser espontáneos. Este es un día para crear, para abrirnos a nuestras emociones más profundas a través de los procesos creativos, para sanar por medio de la danza, la pintura, la música, el sonido, la escritura o cualquier forma de arte con la que conectemos. Recordemos que el propósito no es crear algo perfecto, sino explorar nuestro ser libremente, permitir que fluya nuestra creatividad para que podamos expresar y plasmar lo que sentimos y experimentamos en este momento, para que podamos conectar por medio de nuestra fuerza creadora al poder del amor y sanación de 5 B'atz'.

Latest posts by Denise Barrios
(see all)