5 AJMAQ ~ Today's Ch'umil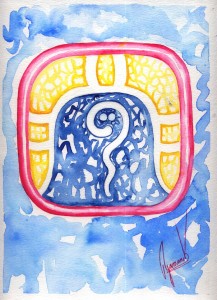 This day is ruled by Ajaw 5 Ajmaq, which is the curious mind that is receptive to constant learning. It is our ability to discover, to find answers to the things that are unknown to us, to investigate and open new roads, to create and take action through the knowldege we acquire. Connect to the energy of this day which enables you to explore and expand your knowledge and consciousness, which connects you to the wisdom of the universe and allows you to activate those mental powers that are dormant in you and which will help you develop in every sense.
El día de hoy nos rige Ajaw 5 Ajmaq, que es la mente curiosa que esta receptiva a aprender constantemente, es nuestra capacidad para descubrir, para buscar respuestas a todo lo que nos es desconocido, para investigar y abrir nuevos caminos, para crear y tomar acción a través del conocimieno que adquirimos. Conéctate a la energía de este día que te posibilita explorar y expandir tu conocimiento y tu consciencia, que te conecta a la sabiuría de universo y te permite activar aquellos poderes mentales que tengas dormidos para poder desarrollarte en todo sentido.

Latest posts by Denise Barrios
(see all)