4 Kawoq ~ Today's Ch'umil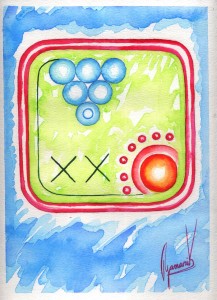 Kawoq represents the family, both our blood family and our spiritual family. Number 4 symbolizes balance, stability, and security. This is a good day to connect with the people you love, to find comfort in their support and solidarity, and to reenergize yourself through their love and warmth.
Ajaw 4 Kawoq trae la energía de la abundancia, es quien simboliza el crecimiento, la fertilidad, la unión y el balance. La abundancia y prosperidad forman parte de ti, de cada uno de nosotros, nos han sido otorgadas. Vivimos en un mundo abundante, lleno de oportunidades, de ideas, de amor, de una Madre Naturaleza que nos otorga cada elemento que necesitamos para nuestro crecimiento y desarrollo. La vida nos da a manos llenas, devolvamos con gratitud, sepamos compartir. Las energías que rigen este día nos enseñan que el balance y la abundancia los encontramos en el compartir; compartiendo multiplicamos y crecemos. Recuerda que eres tu quien construye tu vida a través de tus decisiones, a través de la energía que emanas y que atrae lo que vibra en sincronía contigo, no puedes atraer abundancia vibrando desde la carencia. Por eso piensa bonito, ten pensamientos que surjan desde una frecuencia de amor y sobre todo comparte tu abundancia, multiplícala.

Latest posts by Denise Barrios
(see all)