3 K'AT ~ Today's Ch'umil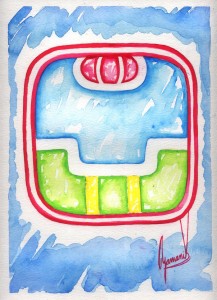 This is a day to exercise clarity and the power to untangle all things that are trapping you. K'at opens the space to find and catch your inner powers. Be careful not to fall into obsessions and become a victim of the excesses. If you put your intention, you will be able to free yourself.
Día para ejercer la claridad y el poder para desatar lo que te enreda. K'at te da el espacio para encontrar y atrapar tus poderes internos. Cuidado con caer en obsesiones y ser víctima de los excesos. Si pones intención te podrás liberar.

Carlos Barrios is a Mayan Ajq'ij, who originates from and resides in Guatemala. Carlos is the Coordinator of the Spiritual Reserves of Humanity for Central America and Coordinator of the Water Project for Central America for UNESCO.He has been given the mission by his elders to begin sharing the prophecies and teachings of the Mayan peoples with the rest of the world. Carlos travels internationally to share these teachings and to generate awareness and support for the rescue and preservation of the ancient Mayan tradition in his homeland. He is also the author of "The Book of Destiny", a book on the cosmology, Cholq'ij calendar and prophecies of the Mayan peoples.

Latest posts by Carlos Barrios (see all)