2 Q'ANIL ~ Today's Ch'umil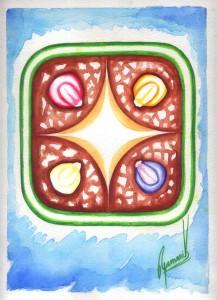 Ajaw Q'anil is the energy of the seed, it is the things in which we work and which are about to germinate. It is sprouting from our darkness into the light, honoring our wholeness and growing from it, being open to fertilize ourselves with wisdom, spirituality, balance, love, enlightenment, and everything that nurtures our being so that we can develop fully. Number 2 speaks to us about integrating our light and our shadow to unify our energy, to find balance and achieve evolution. This number also symbolizes the couple, the complement, and the relationships. Let us remember that it is up to us to be in harmony or in conflict with others and with ourselves, for the work we do within brings an external movement. That the only place from which we can integrate, modify, transmute, find harmony, and evolve is our own being. The confluence of the energies of this day gives us the power we need to sow in our inner self the seeds of respect, love, happiness and everything we want to harvest on the outside.
Ajaw Q'anil es la energía de la semilla, es aquello en lo que trabajamos y que está por germinar, es el surgir desde nuestra oscuridad hacia la luz, honrar nuestra totalidad y crecer a partir de ella, estar abiertos a que fecunden en nosotros la sabiduría, la espiritualidad, el equilibrio, el amor, la iluminación y todo aquello que alimenta nuestro ser para que podamos desarrollarnos plenamente. El número 2 nos habla de integrar nuestra luz y nuestra sombra para unificar nuestra energía, encontrar el balance y alcanzar la evolución. Este número también simboliza la pareja, el complemento y las relaciones. Recordemos que depende de nosotros el estar en armonía o en conflicto con los demás y con nosotros mismos, pues el trabajo que hacemos en nuestro interior tiene como consecuencia un movimiento exterior. Que el único lugar desde el cual podemos integrarnos, modificar, transmutar, encontrar la armonía y evolucionar es nuestro ser. La confluencia de las energías de este día nos da el poder que necesitamos para sembrar en nuestro interno las semillas del respeto, del amor, de la felicidad y de cada cosa que queremos cosechar en el externo.

Latest posts by Denise Barrios
(see all)