2 AJ ~ Today's Ch'umil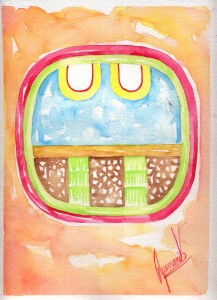 Aj is the energy of the foundations, it is the symbol of the spiritual authority, the Sacred Altar, and the pillar that strengthens us and connects us to the Cosmic and Telluric energies. This Ch'umil provides us with spiritual strength. Number 2 represents polarity, it allows us to connect to the polarities that reside within us to find the balance in them. Today Ajaw 2 Aj connects you to power of the Cosmos and Mother Earth, if you have a moment, meditate and feel how through your spine, which is the pillar of your body, you connect to the Cosmic and Telluric energies, which give you balance and inner strength.
Aj es la energía de los cimientos, el simbolo de la autoridad espiritual, el Altar Sagrado y el pilar que nos fortalece y nos conecta a las energías Cósmicas y Telúricas. Este Ch'umil nos provee de fortaleza espiritual. El número 2 representa la polaridad, nos permite conectar con aquellas polaridades que residen dentro de nosotros para encontrar en ellas el balance. Ajaw 2 Aj te conecta hoy a las fuerzas del cosmos y de la Madre Tierra, si tienes un momento haz una meditación y siente como a través de tu columna, que es el pilar de tu cuerpo, te conectas a las energías cósmicas y telúricas que te otrogan balance y fortaleza interior.

Latest posts by Denise Barrios
(see all)