13 KAWOQ ~ Today's Ch'umil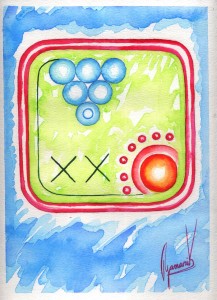 Ajaw Kawoq symbolizes the cosmic and earthly family. Its energy speaks to us about interconnection and coexistence. Its power helps us understand that even though our purpose and growth are personal, they are always connected to a joint evolution. This Ch'umil is also the power of expansion, it is the growth that transforms our life, it is going within to discover ourselves and from that connection with our being to be able to share and transmit. Today Kawoq converges with number 13 that represents completeness and fulfillment, it is a force that puts us in touch with our inner magic. Just like Ajaw Kawoq, the energy of this number expands our consciousness and wisdom. 13 Kawoq teaches us that growth must begin in our being, that it is from working on ourselves that we can expand outwards, that we can accompany others in their development, but it is important to understand that we must do it from a loving detachment, knowing that we cannot do the learning process for anyone because we all have our own path. On this day let us expand from our heart to everything that surrounds us.
Ajaw Kawoq simboliza la familia cósmica y terrenal, su energía nos habla de la interconexión y la coexistencia. Su poder nos ayuda a comprender que a pesar de que nuestro propósito y crecimiento son individuales, estos siempre están conectados a la evolución conjunta. Este Ch'umil es también el poder de la expansión, es el crecimiento que transforma nuestra vida, es ir a nuestro interior para descubrirnos y desde esa conexión con nosotros mismos poder compartir y transmitir. Hoy Kawoq converge con el número 13 que representa la completitud y realización, es la fuerza que nos conecta con nuestra magia interior. Al igual que Ajaw Kawoq, la energía de este número expande nuestra conciencia y sabiduría. 13 Kawoq nos enseña que el crecimiento debe empezar en nuestro ser, que es a partir de trabajar en nosotros mismos que podemos expandir hacia afuera. Que podemos acompañar el trabajo de desarrollo de los demás, pero es importante comprender que debemos hacerlo desde un amoroso desapego, sabiendo que no podemos hacer el aprendizaje por nadie pues cada quien tiene su propio camino. En este día expandamos desde nuestro corazón a todo cuanto nos rodea.

Latest posts by Denise Barrios
(see all)