13 K'AT ~ Today's Ch'umil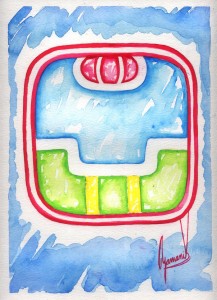 K'at is the net that has the power to gather and bring together, the net that we use to save all the elements, physical and intangible, that we need in life. It is the physical net that helps us store the food that will nurture us in the future, and at the same time the inmaterial net that allows us to save in our memory our learnings, experiences, and transcendent moments. Ajaw K'at is also the communication and interconnection, it is the energy that gathers the people and elements required to do every action we take. Today its energy merges with that of number 13, which contains in its essence the realization and wisdom, the magic and spirituality, the power we possess to transmit, share, and change the outer world through the changes and learnings we have achieved in our inner world. This is a day to share all those things that K'at has allowed us to gather. Open your arms to receive and hold out your hands to give.
K'at es la red que tiene el poder de agrupar y unir, esa red que utilizamos para guardar todos los elementos físicos e intangibles que necesitamos en la vida. Es la red física que nos sirve para guardar el alimento que nos nutrirá en el futuro y así mismo es la red inmaterial que nos permite guardar en nuestra memoria nuestros aprendizajes, experiencias y momentos trascendentes. Ajaw K'at es también la comunicación y la interconexión, es la energía que reune las personas y los elementos necesarios para efectuar cada acción que realizamos. Hoy su energía se fusiona con la del número 13, que contiene en su esencia la realización y la sabiduría, es la magia y la espiritualidad, el poder que poseemos de transmitir, de compartir y de cambiar el mundo externo a través de los cambios y aprendizajes que hemos realizado en nuestro mundo interno. Este es un día para compartir todas aquellas cosas que K'at nos ha permitido recolectar. Abre tus brazos para recibir y extiende tus manos para dar.

Latest posts by Denise Barrios
(see all)