13 IMOX ~ Today's Ch'umil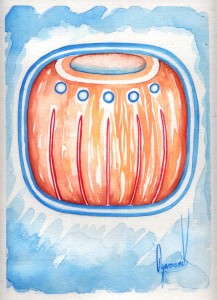 Imox is the sign that connects us to the spirit of water. It is an energy that brings cleanliness and healing, that teaches us to flow with life and pushes us forward. It is a power that raises our awareness, that opens for us the possibility of perceiving the energies that surround us. This Ch'umil is the lens that allows us to see the imperceptible, that puts our mind in a receptive state and gives us the ability to understand the messages that come to us. Today Imox converges with number 13 which is a magic force that helps us transform and create, that supports us in the process of our holistic development. In this day we can connect to water as a purifying energy, let's begin by offering to it and giving thanks for the life it brings. Let's take a moment to enter in contatct with this element so that its purifying energy cleanses us and takes away any blockages or negative energy that has accumulated in our body, mind, heart, or spirit. Let's feel how this water brings a medicinal power that cleanses all those things that are not beneficial for us. Let's let it awaken the powers of our being and raise our awareness. Remember that these days are for cleansing, for healing, and for preparing ourselves to receive the Solstice.
Imox es el signo que nos conecta con el espíritu del agua. Es una energía que trae limpieza y sanación, que nos enseña a fluir con la vida y nos impulsa. Es un poder que sensibiliza, que nos abre a percibir las energías que nos rodean. Este Ch'umil es el lente que nos permite ver lo imperceptible, que pone nuestra mente en un estado receptivo y nos da la capacidad de comprender los mensajes que vienen a nosotros. Hoy Imox converge con el número 13 que es una fuerza mágica que nos ayuda a transformar y crear, que nos apoya en nuestro desarrollo integral. En este día podemos conectarnos con el agua como una energía purificadora, empecemos por ofrendarle, por agradecerle por la vida que trae.Tomemos un momento para entrar en contacto con este elemento, para que su energía purificadora nos limpie y retire cualquier bloqueo o energía negativa que hayamos acumulado en nuestro cuerpo, mente, corazón o espíritu. Sintamos como esta agua trae un poder medicinal que limpia todo aquello que no es beneficioso para nosotros. Permitamos que despierte los poderes de nuestro ser, que nos sensibilice. Recordemos que estos son días para limpiar, para sanar y prepararnos para recibir el Solsticio.

Latest posts by Denise Barrios
(see all)