13 Aq'ab'al ~ Today's Ch'umil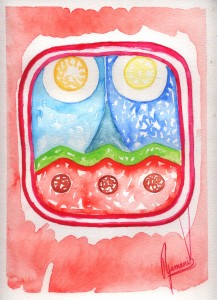 Aq'ab'al represents the dusk and dawn; it is the first ray of light in the darkness, a renewing force. Number 13 symbolizes the magic of being able to change and create. The revitalizing strength of the energies of this day offer you the opportunity to break from your routine and breath new airs. This is the last day of the B'atz' trecena (thirteen days), light a candle to thank B'atz' for all the stories you have woven with its threads during this thirteen days.
During the Creation of the Universe 13 Aq'ab'al drank water, moistened the soil and modeled the body of the man.
According to the Maya, the world was created in one Mayan month (twenty days). The process of creation begins on Jun (1) B'atz and ends on the day Wuqub' (7) Tz'i', completing the first twenty days of the Cholq'ij (Calendar of Life). After this final day of creation, the day Wajxaqib' (8) B'atz' arrives, which is considered the Cholq'ij New Year. When Maya people celebrate the Cholq'ij new year, they are celebrating that the creation of the world has been fulfilled, and the beginning of a new cycle of 260 days.

Latest posts by Denise Barrios
(see all)