13 AJMAQ ~ Today's Ch'umil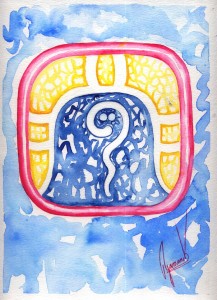 This is a day for reflection, to meditate about our actions and their consequences, to recognize our most profound essence. Ajmaq brings forgiveness, its energy is the one that helps us transform the discord of the past to create the harmony of the present and future. The act of self-exploration is a way of maintaining our balance, of being completely aware of every action we take, instead of going through life in a mechanic way. This Ch'umil opens for us every twenty days the space to go within, to reflect, to thank and forgive, to keep our consciousness awake. Number 13 gives us the wisdom and magic to transform and to find fulfillment. On this day you can delve deeper into the course and purpose of your life. You can offer a purple candle to harmonize yourself, to ask for forgiveness for any harm you may have caused, either consciously or unconsciously. Use this opportunity to ask for forgiveness and harmonize yourself with Mother Earth.
Este es un día para la reflexión, para meditar acerca de nuestros actos y sus consecuencias, para reconocer nuestra esencia más profunda. Ajmaq trae el perdón, su energía es la que nos ayuda a transformar las discordias del pasado para crear armonía en el presente y el futuro. El hacer una introspección es una forma de mantener el equilibrio, de ser completamente conscientes de cada acción que tomamos, en vez de ir por la vida actuando de forma mecánica. Este Ch'umil nos abre cada veinte días el espacio para ir a nuestro interno, para refexionar, agradecer, perdonar, para mantener despierta nuestra conciencia. El número 13 nos da la sabiduría y la magia para transformar y encontar la realización. En este día se puede profundizar en el rumbo y propósito de nuestra vida. Ofrendemos hoy una vela morada para armonizarnos, para pedir perdón por cualquier daño que hayamos provocado, ya sea consciente o inconsicentemente. Aprovechemos para pedir perdón y armonizarnos con la Madre Tierra.

Latest posts by Denise Barrios
(see all)