13 AJ ~ Today's Ch'umil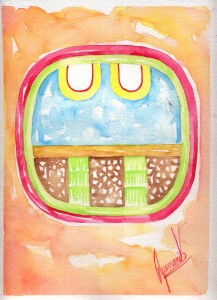 Aj represents the foundations, it is the Ch'umil that holds the magic to configure this reality. It is the pillars that bring strength to our inner being, the energy that gives shape and structure to our body, the temple and altar of our conscience, of our spirit. Today this sign converges with number 13 which symbolizes fullness and completeness, experience and wisdom; its force allows us to transmute, change and create in order to achieve personal fulfillment. The energies of this day invite us to recognize the power we have within ourselves. Each one of us has a path to fulfill, an important life mission, and 13 Aj gives us the ability to go within and understand that path, to discover everything we have to give. This Ch'umil connects us with our body, which is the tool we have to perceive and experience this reality, to achieve our purpose of being. Let's find peace and stability inside ourselves, let's discover that home, that sacred place that exists within our being, let's connect with our magic, with our divine essence.
Aj representa los cimientos, es el Ch'umil que posee la magia de configurar esta realidad. Es los pilares que fortalecen nuestro ser interior, su energía da forma y estructura a nuestro cuerpo, a ese templo y altar de nuestra conciencia, de nuestro espíritu. Hoy este signo converge con el número 13 que simboliza la plenitud y la completitud, la experiencia y la sabiduría; su fuerza nos permite transmutar, cambiar y crear para alcanzar la realización personal. Las energías de este día nos invitan a reconocer el poder que tenemos dentro de nosotros mismos. Cada uno de nosotros tiene un camino que cumplir, una misión importante de vida y 13 Aj nos da la capacidad de ir a nuestro interno y comprender ese camino, descubrir todo aquello que tenemos para dar. Este Ch'umil nos conecta con nuestro cuerpo, que es la herramienta a través de la cual podemos percibir y experimentar esta realidad para alcanzar nuestro propósito de ser. Encontremos paz y estabilidad dentro de nosotros mismos, descubramos ese hogar, ese lugar sagrado que existe dentro de nuestro ser, conectemos con nuestra magia, con nuestra esencia divina.

Latest posts by Denise Barrios
(see all)