12 B'ATZ' ~ Today's Ch'umil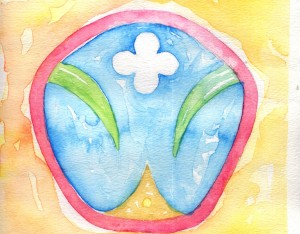 We are united to everything that surrounds us, connected with the force of the universe and nature. When we become aware of this we enter into a state of synchrony with Mother Earth and the Cosmos, we vibrate in harmony with each event and movement of the sky and earth. This is a day of great significance, as there is a connection with the cosmic energies of the Equinox. Equinoxes are moments of equilibrium, and for each of us a space of harmony opens in which we can level ourselves in every plane, integrate every part of our being to achieve inner balance. This magical moment happens on a day 12 B'atz', which manifests the energy of the interweaving of time and teaches us that we are nothing more than a thread that intertwines with all creation, that we are part of the whole and that through our vibration and our actions we are connected and we can also generate an impact on the common fabric of existence. This cosmic event under the energy of Ajaw 12 B'atz' opens up an opportunity for us to vibrate in the power or love, to walk through life consciously, in harmony. Let us take advantage of this space of balance to connect with our inner self. We can light a red and a white candle, this allows us to open energetic spaces that help us activate our powers and consciousness, that open paths to enlightenment. Let us meditate, let us do a concentration, let us offer candles and incense to the East and West; let us do the ritual that most vibrates with our being, but let us connect to this powerful energy in order to give way to our purpose and growth.
Estamos unidos a todo lo que nos rodea, conectados con la fuerza del universo y de la naturaleza. Cuando nos hacemos conscientes de esto entramos en sincronía con la Madre Tierra y el Cosmos, vibramos en armonía con cada evento y movimiento del cielo y de la tierra. Hoy es un día de gran trascendencia, pues hay una conexión con las energías cósmicas del Equinoccio. Los equinoccios son momentos de equilibrio y para cada uno de nosotros se abre un espacio de armonía en el que podemos encontrar el balance en cada nivel, integrar cada parte de nuestro ser para alcanzar el equilibrio interno. Hoy este momento mágico sucede en un día 12 B'atz' que manifiesta la energía del entretejido del tiempo, que nos enseña que nosotros no somos más que una hebra que se entrelaza con toda la creación, que formamos parte del todo y que a través de nuestra vibración y nuestras acciones nos conectamos y también generamos una impacto en el tejido común de la existencia. Este evento cósmico bajo la energía de Ajaw 12 B'atz' nos abre una oportunidad para vibrar en amor, para transitar la vida conscientemente, en armonía. Aprovechemos este espacio de equilibrio para conectar con nuestro interno. Encendamos una vela roja y una blanca, esto nos ayuda a abrir espacios energéticos que nos permiten activar nuestros poderes y conciencia, que abren caminos hacia la iluminación. Meditemos, hagamos una concentración, ofrendemos velas e incienso al Oriente y Poniente; practiquemos el ritual que más vibra con nuestro ser, pero conectémonos a esta energía poderosa para dar paso a nuestros propósitos y crecimiento.

Latest posts by Denise Barrios
(see all)