10 Q'ANIL ~ Today's Ch'umil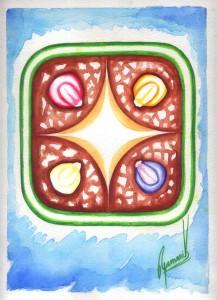 The energy of this day teaches us that there is a time for everything, that we must go at our own pace, honoring our processes. Ajaw Q'anil is the seed and the creation, it is everything that we plant and nurture so that it can flourish. This Ch'umil speaks to us about learning to allow for things to have the time to germinate, it reminds us that we should not push anything; that our growth, our projects, everything we do is like a seed, it needs time to grow, to develop and evolve. Today this sign converges with number 10 which is an energy in contention about to break the limits. Ajaw 10 Q'anil speaks about being patient, it teaches us that we must trust in the organic cycles of life, that we must give space for things to happen, without forcing them, for everything that has to be will come to be in the right moment and it will happen in the best way for us. That our focus should be on nurturing our growth with love, on giving our best, trusting that life's timing is always perfect, that things will flourish at the right moment.
La energía de este día nos enseña que hay un tiempo para todo, que debemos ir a nuestro propio ritmo, honrando nuestros procesos. Ajaw Q'anil es la semilla y la creación, es todo aquello que plantamos y alimentamos para que pueda florecer. Este Ch'umil nos habla de aprender a dar tiempo para que las cosas germinen, nos recuerda que no debemos empujar nada, que nuestro crecimiento, nuestros proyectos, todo lo que realizamos es como una semilla, necesita su tiempo para crecer, para desarrollarse y evolucionar. Hoy este signo converge con el número 10 que es una energía en contención a punto de romper los límites. Ajaw 10 Q'anil nos habla de ser pacientes, nos enseña que debemos confiar en los ciclos orgánicos de la vida, que debemos dar espacio para que las cosas sucedan, sin forzarlas, pues todo lo que tienen que ser va a ser en el momento justo y va a surgir de la mejor manera para nosotros. Que nuestro enfoque debe estar en nutrir nuestro crecimiento con amor, en dar lo mejor de nosotros confiando en que los tiempos de la vida siempre son perfectos, que las cosas van a florecer en el momento adecuado.

Latest posts by Denise Barrios
(see all)