10 B'ATZ' ~ Today's Ch'umil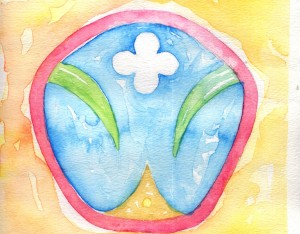 Ajaw B'atz' contains within it the creative and spiritual powers. It is the beginning of time, our connection with the divine and with existence. It symbolizes the umbilical cord which represents the source of life. This Ch'umil brings with it the energy of love, it is the thread that connects us to others and the energy that rules over relationships. It is human evolution, time that unfolds before us, and each experience we live. Today B'atz' converges with number 10, which is a channel that connects us to the cosmic and the telluric, an energy that prompts us to manifest the essence of our being. The full moon of this day brings a power that charges us and gives us vitality, that opens us to the love, creativity and spirituality emitted by Ajaw B'atz'. We can do a meditation to flow with the energies of this day, so that the power of the moon descends into our being through the channel that number 10 opens for us. Let's connect ourselves to the force of this full moon in 10 B'atz' so that it recharges our energy and impels our conscious development, so that we can express our divinity through the power of love.
Ajaw B'atz' contiene dentro de sí el poder creativo y espiritual. Es el inicio del tiempo, nuestra conexión con lo divino y con la existencia, representa el cordón umbilical que simboliza la fuente de la vida. Este Ch'umil trae consigo la energía del amor, es el hilo que nos conecta a los demás y la energía que rige sobre las relaciones. Es la evolución humana, el tiempo que se desenvuelve ante nosotros, cada experiencia que vivimos. Hoy B'atz' converge con el número 10 que es un canal que nos conecta a lo cósmico y a lo telúrico, una energía que nos impulsa a manifestar la esencia de nuestro ser. La luna llena de este día trae un poder que nos carga y nos da vitalidad, que nos abre al amor, creatividad y espiritualidad que emite Ajaw B'atz'. Hoy podemos hacer una meditación para fluir con las energías del día, para que el poder de la luna descienda hacia nuestro ser a través de ese canal que abre el número 10. Conectémonos para que la fuerza de la luna en 10 B'atz' nos recargue e impulse nuestro desarrollo consciente, para que podamos expresar nuestra divinidad a través del poder del amor.

Latest posts by Denise Barrios
(see all)