1 Q'ANIL ~ Today's Ch'umil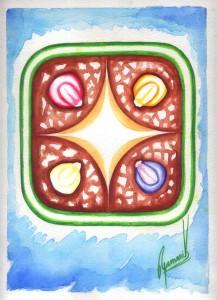 Q'anil is the seed, the future, and our offspring. The energy of today asks us to pay the utmost attention to our projects, we have to fine-tune every detail to obtain good results. Today the Q'anil trecena (thirteen days) begins, which indicates that we should pay attention to what we are going to develop, let's focus on the small details which will make the difference.
Q'anil es la semilla, es el futuro y nuestra decendencia. La energía de hoy nos pide tomar atención extrema en nuestros proyectos, hay que afinar todos los detalles para obtener buenos resultados. Hoy comienza esta trecena que nos indica poner atención a lo que vamos a desarrollar, pongamos atención a los pequeños detalles que son los que haran la diferencia.

Latest posts by Carlos Barrios
(see all)