1 KAME ~ Today's Ch'umil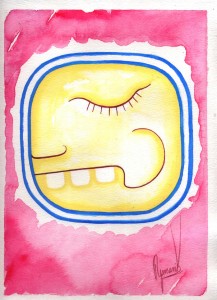 The power of Ajaw Kame guards our existence in this dimension. This Ch'umil is the force that looks after us and guides us until we fulfill our purpose in this plane, it is the energy that protects us so that we can perform every important action, so that we can awaken all our potentialities, advance in our journey towards wisdom and love, and create a difference in the world through our existence. Today a new trecena (thirteen day cycle) begins under the energy of this sign, during these thirteen days Kame teaches us about detachment, changes, and learning how to move towards our destiny leaving behind the energies that have already fulfilled their purpose. Kame speaks to us about death and life, about rebirth, and the processes and stages that we must go through throughout our existence. In these 13 days we can work on moving forward and releasing expired energies, understanding that we live in a world of infinite possibilities and we should not hold on to the energies that divert us from our path towards healing and growth. On each of these thirteen days Ajaw Kame brings us the teaching of love and detachment. This Ch'umil also has the power to open the communication channels with the spirit guides that inhabit other spaces; this connection arises through dreams, thoughts, visions, signals … during this thirteen let us be attentive and open to receive their messages. Likewise, Kame is the energy that connects us to our ancestors, let us offer a candle or a prayer for them, let us keep them present in our thoughts, remembering them and sharing their stories as a family, let us honor our roots.
El poder de Ajaw Kame resguarda nuestra existencia en esta dimensión. Este Ch'umil es la fuerza que nos cuida y guía hasta que cumplimos nuestro propósito en este plano, es la energía que nos protege para que podamos realizar cada acción importante, para que podamos despertar todas nuestras potencialidades, avanzar en nuestro viaje hacia la sabiduría y el amor, y crear una diferencia en el mundo a través de nuestra existencia. Hoy comienza una nueva trecena bajo la energía de este signo, durante estos trece días el aprendizaje que nos trae Kame nos enseña acerca del desapego, de los cambios, de saber avanzar hacia nuestro destino dejando atrás las energías que ya cumplieron su propósito. Kame nos habla acerca de la muerte y la vida, del renacer, de los procesos y etapas que debemos transitar a lo largo de nuestra existencia. En estos 13 días podemos trabajar en avanzar y soltar energía caducadas, comprendiendo que vivimos en un mundo de infinitas posibilidades y no debemos sostener aquellas energías que nos desvían de nuestro camino hacia la sanación y el crecimiento. Cada uno de estos trece días Ajaw Kame nos trae la enseñanza del amor y el desapego. Este Ch'umil también posee el poder de abrir los canales de comunicación con los seres guías que habitan en otros espacios, esta conexión surge a través de sueños, pensamientos, visiones, señales… durante esta trecena estemos atentos y abiertos a recibir estos mensajes. Asimismo, Kame es la energía que nos conecta a nuestros ancestros, ofrendemos una vela o una oración en su nombre, tengámoslos presentes en nuestros pensamientos, recordémoslos y compartamos sus historias en familia, honremos nuestras raíces.

Latest posts by Denise Barrios
(see all)