1 AQ'AB'AL ~ Today's Ch'umil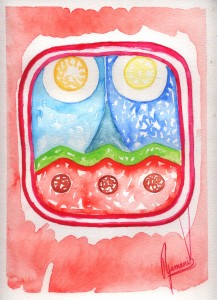 Today we are ruled by Ajaw Aq'ab'al that represents the rising to the sun,. It is the first ray of light that illuminates darkness, it is a renewing force. This Ch'umil symbolizes the changes that arise in our life, it is undertaking a new direction. Today its power converges with that of number 1, which brings with it the force of creation. It is an energy that impels. Each day is a new beginning, a new opportunity that must not be affected by yesterday. It doesn't matter what we have done in the past, it doesn't even matter what we did a moment ago, for we must not allow our previous actions to affect our present. We should learn from our past, we can use it to inspire our future, but let's not allow it to deter us. The changes in our life are generated from within ourselves to our outer environment, let's seek to find happiness in our inner self. Remember that we shine with our own light, the light that emerges from our internal being. This is the first day of the Aq'ab'al trecena, take advantage of the opportunities that this Ch'umil will bring during the next 13 days.
Hoy nos rige Ajaw Aq'ab'al que representa la salida del sol, es ese primer rayo de luz que ilumina la oscuridad, es una fuerza renovadora. Este Ch'umil simboliza los cambios que surgen en nuestra vida, es el emprender nuevos rumbos. Hoy su poder converge con el del número 1 que trae consigo la fuerza de la creación, que es una energía que nos impulsa. Cada día es un nuevo comienzo, una nueva oportunidad que no debe ser afectada por el ayer. No importa que hicimos en el pasado, ni si quiera importa que hicimos hace un momento, pues no debemos permitir que nuestras acciones anteriores afecten nuestro presente. Debemos aprender del pasado, podemos usarlo como inspiración para crear nuestro futuro, pero no permitamos que nos desaliente. Los cambios en nuestra vida se generan desde nuestro interior hacia nuestro entorno, busquemos entonces la felicidad dentro de nosotros mismos, recordemos que brillamos con nuestra propia luz, esa que surge de nuestro ser interno. Este es el primer día de la trecena de Aq'ab'al, aprovecha las oportunidades que este Ch'umill te trae durante los próximos 13 días.

Latest posts by Denise Barrios
(see all)