1 AJ ~ Today's Ch'umil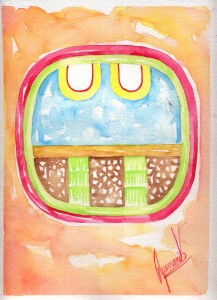 Aj is the power that gives us spiritual strength. This Ch'umil represents the pillars of inner force, it is the channel that connects us to the cosmos and earth, that unites us to everything so that we can flow in synchrony with life. It is our spine, the structures of our body and of our home, it is the energetic foundations that hold the essence of everything we know, that sustain creation and our reality. Today its power converges with that of number 1, an energy that teaches us that we are part of the whole, that we are one and we are interconnected. The energies of this day remind us that we are united to the universe and to nature, that this reality is the product of the convergence of the force of the cosmos and earth and that we are the receptacle of this energy, we are the maximum expression of creation. This number marks the beginning of a new trecena (thirteen day cycle) under the power of Aj, a trecena that gives us the strength and determination to achieve our purposes, especially those that drive our evolution. For the next thirteen days let us work on breaking down the most rigid and old structures of our being, those that may seem to give us security and stability, but that in reality only stagnate our growth. Let us invoke the energy of Ajaw Aj so that it is our guide and it gives us the strength to change, to evolve.
Aj es el poder que nos da la fuerza espiritual, este Ch'umil representa los pilares de fortaleza interior, es el canal que nos conecta al cosmos y la tierra, que nos une al todo para que fluyamos en sincronía con la vida. Es nuestra columna vertebral, las estructuras de nuestro cuerpo, de nuestro hogar, es los cimientos energéticos que sostienen la esencia de todo aquello que conocemos, que sostienen la creación y nuestra realidad. Hoy su fuerza converge con la del número 1, una energía que nos enseña que somos parte del todo, que somos uno y estamos interconectados. Las energías de este día nos recuerdan que estamos unidos al universo y a la naturaleza, que esta realidad es producto de la convergencia de las fuerza del cosmos y la tierra y que nosotros somos el receptáculo de esta energías, somos la máxima expresión de la creación. Este número marca el inicio de una nueva trecena bajo el poder de Aj que nos da la fuerza y determinación para alcanzar nuestros propósitos, en especial aquellos que impulsan nuestra evolución. Durante los próximos trece días trabajemos en romper las estructuras más rígidas y viejas de nuestro ser, esas que tal vez pareciera que nos dan seguridad y estabilidad, pero que en realidad solo estancan nuestro crecimiento. Invoquemos la energía de Ajaw Aj para que sea nuestra guía y nos de la fuerza para cambiar, para evolucionar.

Latest posts by Denise Barrios
(see all)